Overview
Ahrefs Screenshot of 500k+ Organic Traffic

After ~12 months:

After ~24 months:

Nearly 5 Million Sessions Last Year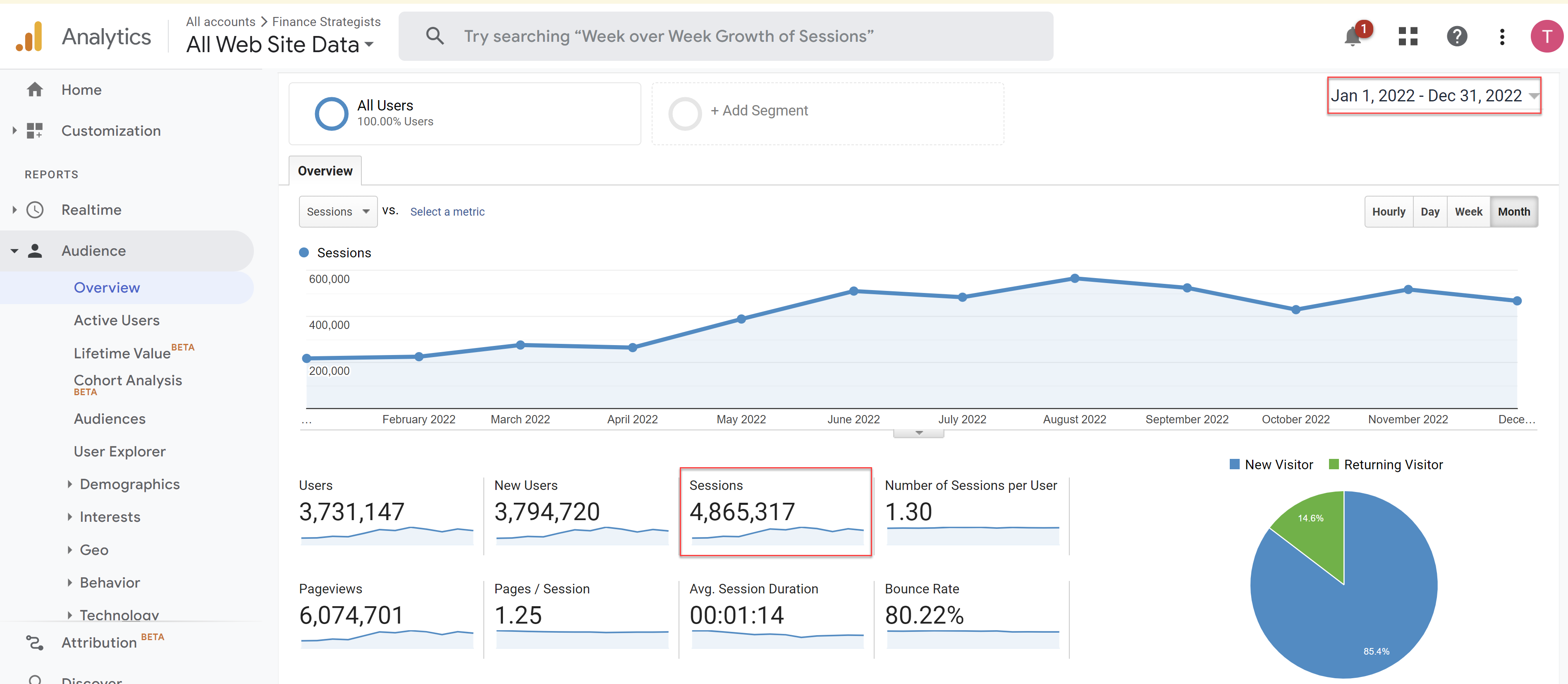 10,000+ YouTube Subscribers

Featured by Major Publications

100% Self-Funded and Created by UpDigital

We built Finance Strategists to prove that we know SEO.
True Tamplin, Founder of UpDigital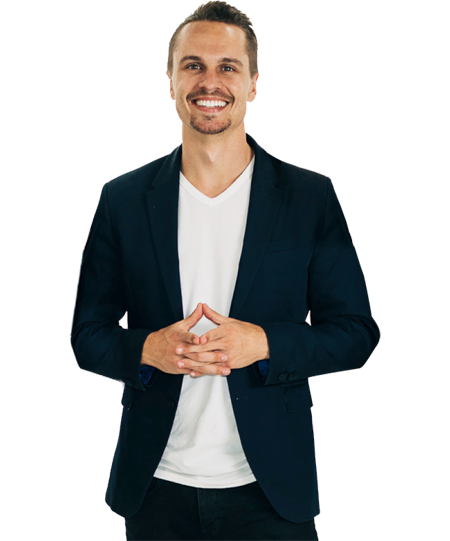 How Finance Strategists Got These Results
Finance Strategists is a finance website dedicated to teaching people finance.
The way it makes money is through generating leads that can then be resold to wealth management firms.
We've worked with lots of companies and have always felt slightly hindered by management shutting down ideas, dev cycles taking forever to update the website, budgets shutting down things which were necessary to invest in, etc.
Finance Strategists is and was 100% our own project.
Overview of this article:
Finance Strategists was able to go from 0 to 10k monthly traffic in about 6 months, and to 500k monthly traffic within about 16 months by following the methodology outlined below.
While Google's algorithm is complex, the formula for success is simple and repeatable if you're willing to do what it takes.
This guide walks through Finance Strategists as a case study to explain how you too can win in Google in the finance industry.

Common Mistakes:
Most people will write a blog or piece of content without even mapping the content to a keyword that is searched for in Google.

Stop using cute titles like "Washingtonians Need to Reconsider Their Estate Plans." Instead use a title that contains a keyword like, "New Washington tax law."
Most people don't write content with a focus keyword in mind. Perform keyword research on the front side to create a roadmap of what content you are looking to make.
Most people in the finance industry think they can win in Google by simply creating optimized content for their desired keyword.

Finance is a competitive industry, so you're not going to rank for a keyword simply because you have a page that is optimized for that keyword. There are many other sites attempting to rank for that same keyword.
Most people only focus on broad or competitive keywords while overlooking longtail keywords.

Longtail keywords are much less competitive and are typically the first keywords your site will rank for. "Financial advisor for divorcees in [city]" can be much easier to rank for than "financial advisor near me."
Most people take shortcuts when building links by purchasing them or engaging in web spam after not seeing desired results.

If you don't create linkable content, no one will link to your site and you'll be dead in the water. Take the time to create linkable content and build links the right way.
Most people view SEO as an afterthought rather than an integral part of one's strategy.

The landscape has changed where the internet is now the #1 place people turn to in order to find a financial advisor. You should hire staff with SEO in mind — your staff should be the ones creating (or at least reviewing content). You can't outsource everything to an SEO company.
Most people overlook the other features in the Google SERPs (search engine results pages) which are often more prominent than the regular links on the page.

Google has evolved quite a bit to now include new ad formats, maps, answer snippets, Google My Business profiles, and much more.
Think of Google as more of an ecosystem rather than only the 10 blue links on the page.
Local SEO has a different set of rules than traditional SEO. You must determine what is important for your business and invest resources accordingly.
Most people don't view SEO as part of a coherent digital marketing strategy.

While SEO is important, there are other channels that are also important, such as PPC ads, social media, email marketing, and others.
Content created for SEO purposes should be repurposed for other channels to roll up into a consistent, coherent digital marketing strategy.
3 Categories of SEO:
Content (AKA on-page SEO)

This is ensuring that the content you write is written with a keyword in mind and properly mapped to that keyword.
Links and citations (AKA off-page SEO)

This is getting other websites to link and quote your website. This cannot be done well without high-quality content.
Technical SEO

This is what people think of when they hear the term "SEO."
These are all the little things webmasters can do to make their website more indexable and highly ranked by search engines. This also includes ensuring that the site loads fast and creates an excellent user experience, which is Google's ultimate goal.
The 3 work together and the site will not perform well unless all 3 are in place. For example, a site that loads slowly with a poor user experience will not receive a lot of traffic, even if it has a lot of backlinks and excellent content.
Of the 3 categories of SEO, high-quality content is the most important and also the most difficult.
How to Rank in Google in the Finance Industry
Overview of this article:
Google's Search Quality Guidelines, a 175 page document released by Google on how Google evaluates the quality of a website, specifies a specific type of content by which it evaluates sites with higher scrutiny known as "Your Money or Your Life (YMYL) Pages."
Finance and health are the 2 categories that fall under the "Your Money, Your Life" (YMYL) policy created by Google. For this type of content Google has placed a greater weight on Expertise, Authority, and Trust (EAT) when evaluating sites to show in its search results.
In order for your site to rank well in the finance industry, you will need to produce content that is more expert, authoritative, and trustworthy than your competitors. This also entails following best practices for boosting E-A-T.
Content Strategy
See what's working

Depending on your niche within the finance industry, there will be differences in what keywords your firm would like to rank for.
Finance Strategists determined that Investopedia's content was most in alignment with the traffic they were interested in achieving. They followed their exact formula of high-quality articles and animation explainer videos to win traffic from Google.
RIA firms with a local presence may want to rank for local searches. Carbon Collective seeks to win the traffic from those interested in ESG investing. Identify a competitor's formula and copy it.
Assemble a team a high-quality writers

Finance Strategists hired writers from top-tier sites like Investopedia, Barron's, Marketwatch, Yahoo Finance, and Forbes.
Leverage your team's knowledge and expertise while borrowing credibility from experts in the field.
Again, finance is all about expertise, authority, and trust — the content needs to be excellent if it is going to rank well and win links.
Follow the content schedule

Create the content you set out to produce following whatever formula has worked for competitors and is in alignment with your strategy.
Don't forget about longtail keywords. These are longer keywords that your site will rank for first. Finance Strategists ranked for "is a patent a current asset" long before it ranked for "current asset."
Set realistic expectations and know that SEO is exponential. Things start out slow at first and compound over time. View screenshots of Finance Strategists after 6 months vs 16 months:
Backlink Strategy
In order to win links naturally, you will need to first create high-quality, linkable content. Do not perform outreach to try and win links to your "money pages" (the pages you intend users to convert on). Perform outreach on your helpful resources which then internally link to your money pages.

This is known as the "middleman technique" since the page you request a link to acts as the middleman.
Google will detect web spam if you unnaturally link directly your money pages.
Finance Strategists created a finance dictionary in order to win links. Other types of linkable content include:

Calculators
Articles that provide analysis
Infographics
Data aggregation or primary research
Profiles or reviews of companies adjacent to your niche
Videos, podcasts, and other rich media
Perform email outreach to give visibility to your content.

Think of sites that will be willing to link to you like a Venn Diagram with some overlap between the content they have written and the content you have written.

Your content should go into more detail about a topic that is mentioned briefly within a different article.
For example, Finance Strategists won links to its Cost of Goods Sold page by performing email outreach to sites who had an article on Gross Profit. That's because pages on Gross Profit typically mention the Cost of Goods Sold and might be willing to link to a definition that goes into more detail about the term.
If pitched correctly, webmasters can be willing to simply add the link to your resource:

Consider using PPC ads to drive relevant traffic to your linkable assets.

There is frequently an overlap between SEO and PPC.
If you create a resource that is helpful for both SEO and can function as a top-of-funnel money page, run ads to your resource page. This can in turn help it attract natural links as well as bring clients into your funnel.

An example is "converting your Roth IRA to a 401(k)," which is both a resource that can attract links and act as a top-of-funnel resource.

Whether or not you would be willing to drive traffic to the page using PPC ads is a great way to evaluate whether the content is worth creating at all.
Create an email list using downloadable assets and notify subscribers when new content is released.

Add a downloadable asset that is related to the topic discussed.

For example, an article on executive compensation might offer a downloadable infographic which explains each type of executive compensation.

Notify subscribers when new content is published. A portion of your email list will manage their own blogs and may add a link to your resource if they find it valuable enough.

This is also your prospect list, so don't tailor the message to website owners.
Post each piece of content on social media

Use a tool like Hootsuite to publish content to all of the major social media platforms

For those on Hubspot, Hubspot has their own native tool

Make sure that content looks good on all platforms being published on

The headline and social image should be checked before and after publication

Schedule posts to be published at the time when your followers are most active
Technical SEO
This may be where you need to consult an SEO agency – Jon Carico, our in-house Core Web Vitals expert, has worked on some of the largest websites in the world, including screenrant.com and makeuseof.com (read our Valnet case study).
The #1 most important aspect to technical SEO is ensuring lighting fast page load times.

Page speeds can be checked using Google's Pagespeed Insights tool.
The three areas of focus for Google's page speed assessment known as "Core Web Vitals" are:

Overall speed (Largest Contentful Paint)
Interactivity (First Input Delay)
Visual stability (Cumulative Layout Shift)

When evaluating developers and webmasters, consider asking about their experience with improving load times.
Add your website to Google Search Console

Google Search Console is Google's official tool for webmasters that allow them to ensure their website is being indexed properly and is free of errors.
Google Search Console also gives site performance data not found elsewhere, such as which keywords your website is currently showing up for, and where you rank for those keywords.
Generate and submit a sitemap within Google Search Console.

A sitemap is a list of all of the pages on your website.
A sitemap can be generated within your content management system or there are many sitemap generator tools that are available.
Once created, your sitemap will be on a URL such as "https://www.domain.com/sitemap_index.xml" — this must be submitted within Google Search Console.
Create a robots.txt file.

Your robots.txt file tells search engines where to find your site's sitemap and what URLs should and should not be crawled and indexed.

For example, if you have gated content that you do not want users to be able to find within the Google search results, you can specify which URLs should not be indexed by Google's web crawlers.

A robots.txt file can be created within your content management system and should be uploaded to the root of the domain.
Your robots.txt file will be found at a URL such as "https://www.domain.com/robots.txt"
Utilize schema markup.

To help search engines understand what content is found on the page, you can use schema markup to define what's what on a page.
There is a large and ever-growing list of the types of elements that can be marked up on a page found on schema.org.
Examples of schema markup for a website in the finance industry include:

Breadcrumbs (to show a site's hierarchy)
Author (to specify the author of an article)
Organization (to specify the owner of a website)
Address (to define what the address of your local business is)
Image (to pull the image into the search results)
Video (to pull the video into the search results)
FAQs (to have questions and answers pulled into the search results)
Reviews (to pull orange stars into the search results)

You can test which schema exists on the page using Google's Schema Markup Validator
Ensure your website is creating an overall good user experience. This especially includes having your site optimized for mobile.
While Google's algorithm is complex, the formula for success is simple and repeatable if you're willing to do what it takes.
By following the steps outlined above, we were able to go from 0 to 500k organic traffic in 24 months.
If you're willing to do what it takes to get similar results and would like UpDigital to help you get there, fill out the form below to get started
Start Seeing Results Like These