"Ken Tamplin Vocal Academy went from 1 guy giving singing lessons to an internationally recognized brand with 7-figure revenues."
About Ken Tamplin Vocal Academy
Ken Tamplin Vocal Academy is an online singing school which sells a downloadable/streamable course on how to sing.
How UpDigital Helped Grow Ken Tamplin Vocal Academy
YouTube Channel Growth
While Ken is the mastermind behind content produced on YouTube, True and the UpDigital team were instrumental in the following areas:
Deep data analysis to inform which content to double-down on and which to discontinue
Content optimization

Keyword research
Title
Description
Tags
Thumbnails
End screens
Call-to-action

Channel verification and direct partnership with YouTube representative
Competitor and trend analysis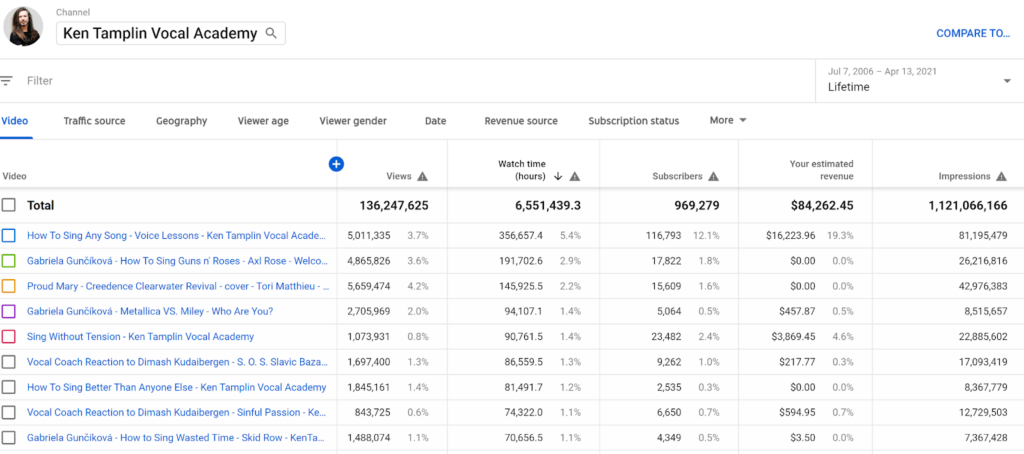 To date, Ken Tamplin Vocal Academy has garnered over 100 million views on YouTube with over 1 million subscribers.
The YouTube channel has been KTVA's primary source of visibility, although it also has nearly 300,000 likes on Facebook.
Website Redesign
Redesigning the KTVA website was an essential component to its success.
The website was given the following revisions:
Complete redesign with a more authoritative theme
More powerful imagery
Clear calls-to-action
Social proof/testimonials
Prominent featuring of students
Superior checkout flow
Time-sensitive sales offering featured at the top of home page
Pop-up of free singing lessons to collect contact information
Prior website screenshot: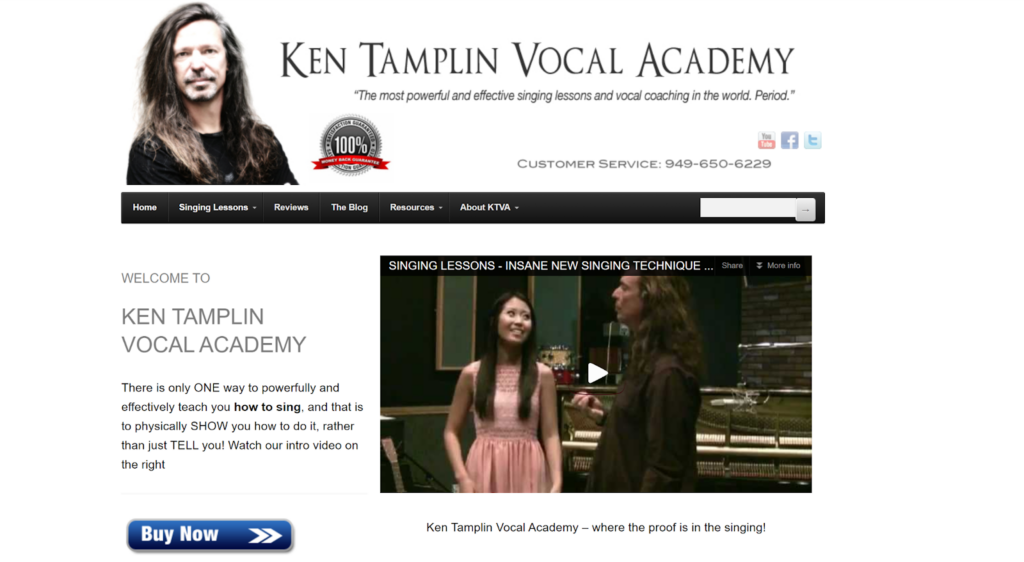 Current website screenshot: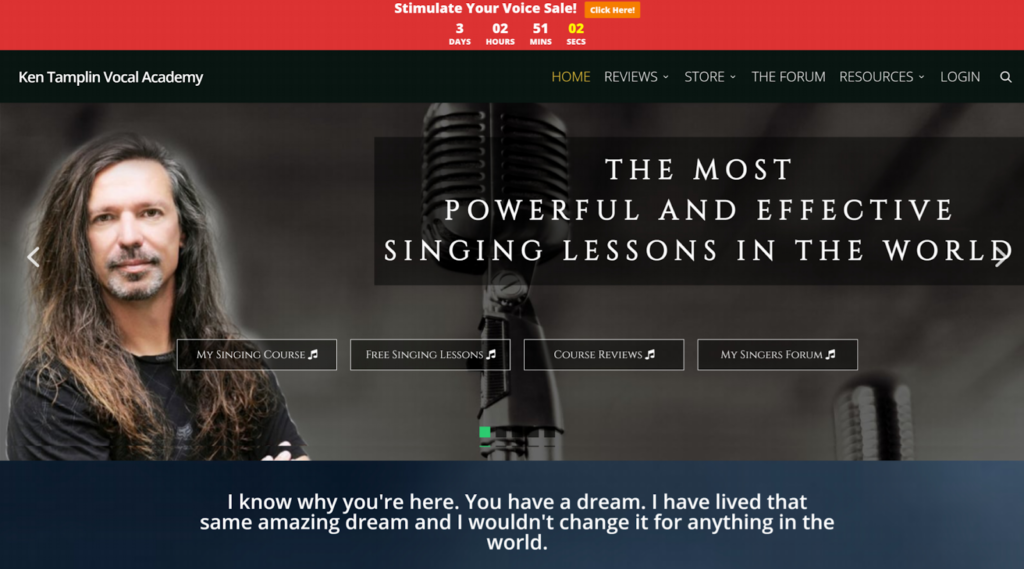 As a result of the website redesign, the site experienced a 50%+ increase in conversion rates.
Email Campaigns
The use of email campaigns was essential to the growth of KTVA.
Creating a "soft conversion" offering was first necessary to begin capturing emails more effectively. We decided to offer free singing lessons as a way to collect email addresses:

This free singing lesson turned a newsletter audience with 10,000 people and only 10% open rate into an audience of 200,000+ with nearly 20% engagement per email.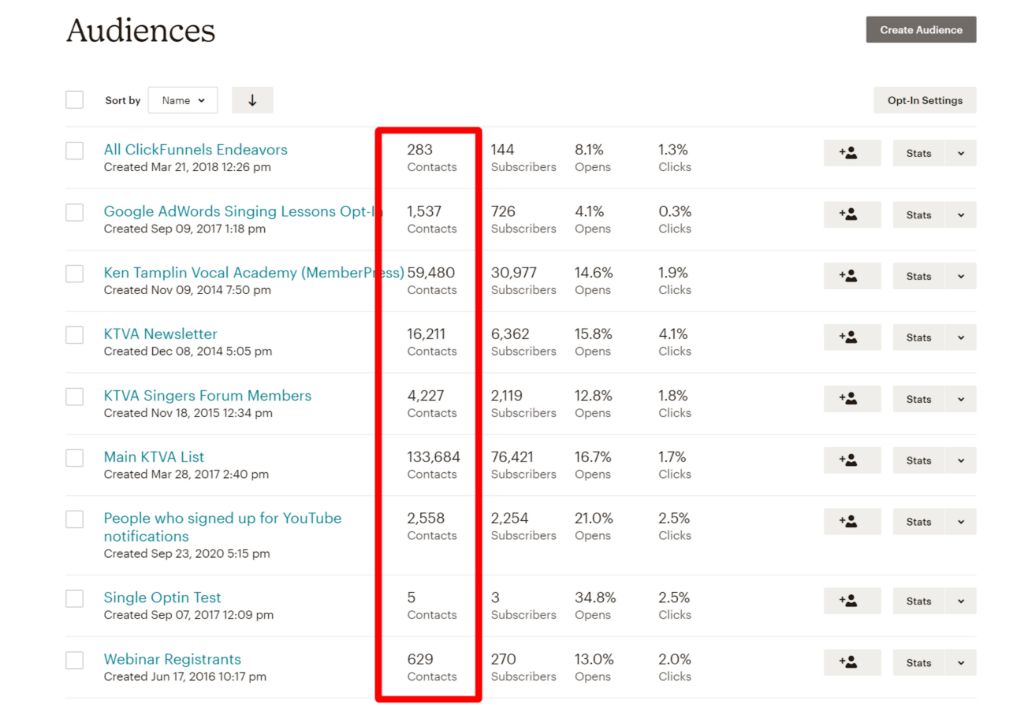 Emails collected are "warmed up" through a 60+ email sequence consisting of tips, stories, and pitches to buy the KTVA singing course: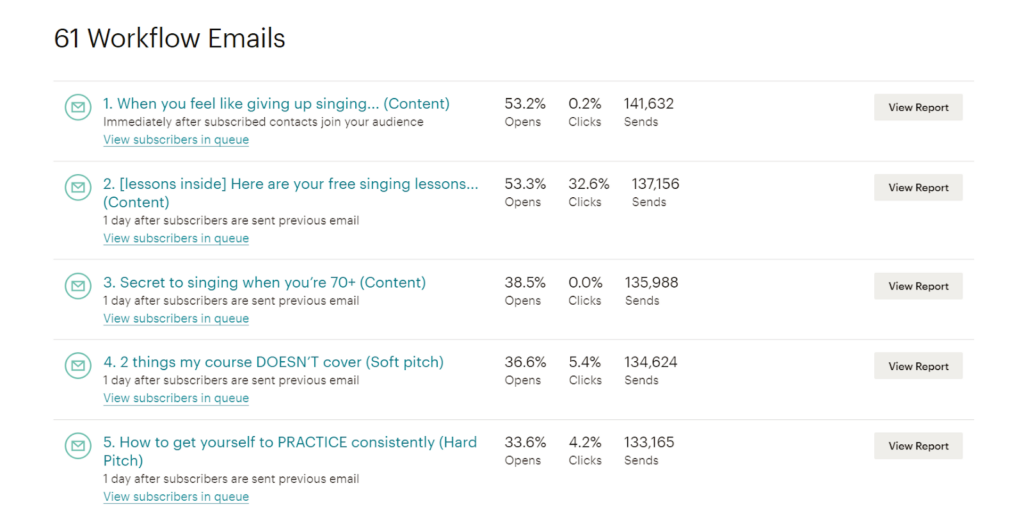 Because the course is a larger purchase ($250+), customers perform lots of research prior to purchasing the course. The emails collected build the pipeline and are harvested during holidays when we offer a discount. This pushes people in the pipeline over the edge to finally purchase the course.
Here is an example of a Black Friday sale driven primarily through email blasts (Google Analytics screenshot):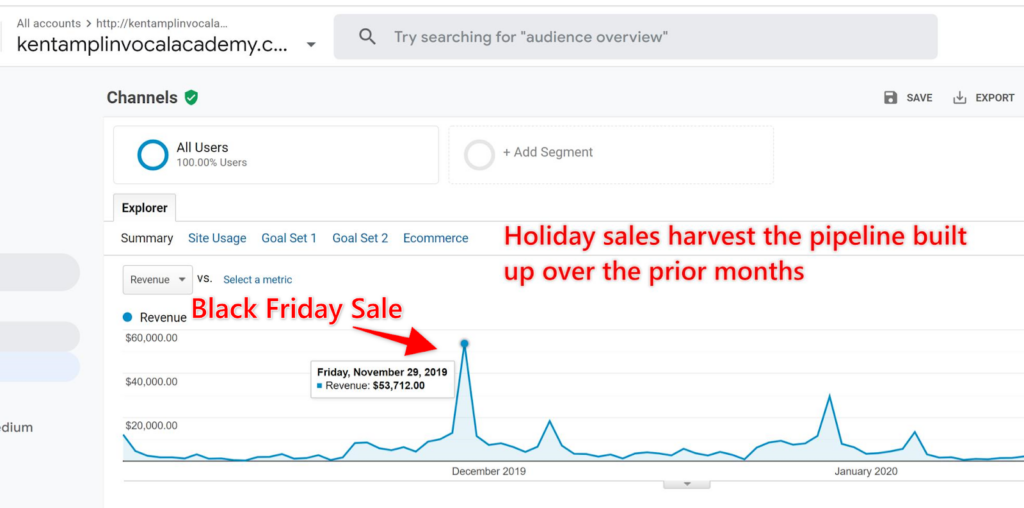 Creating a "hook" to collect email addresses, warming the audience through automated drip sequences, and harvesting interest during holidays were each essential components to KTVA's success when using email to drive sales.
Switching from One-Off Purchase to a Subscription Model
We helped the KTVA brand move from a one-time purchase model to also offer a subscription to the course.
Major companies such as Microsoft have switched from a one-time purchase model to a subscription-based model in an attempt to raise the lifetime value of each customer. Since the KTVA course is typically used by clients for multiple years, we figured making the switch would do the same.
The Ken Tamplin Vocal Academy was only offered as a one-off purchase as either a download, DVD/CD set, or USB drive.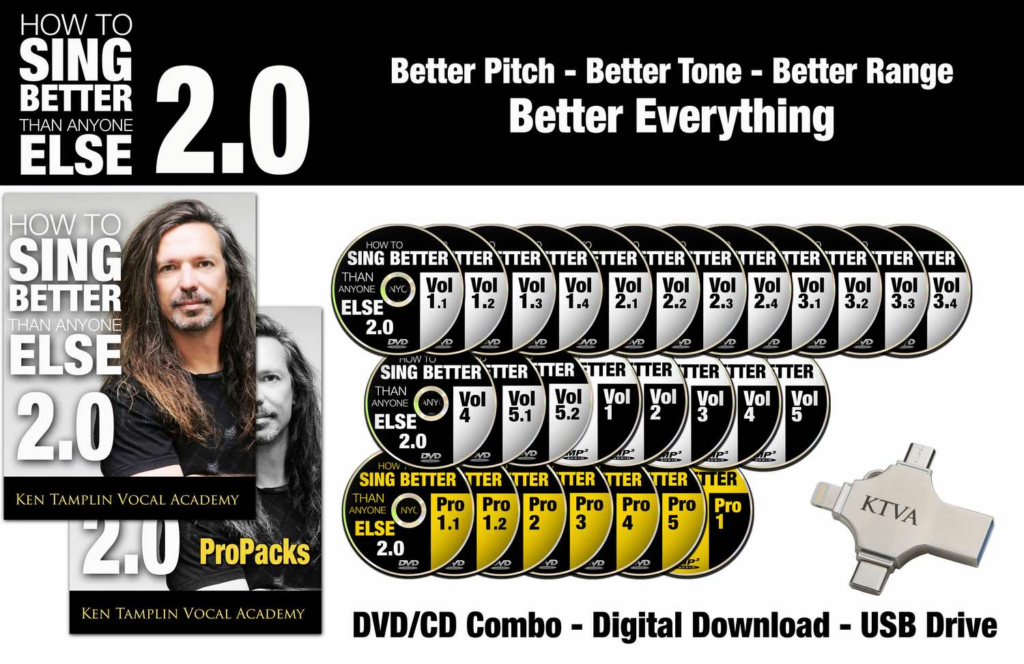 There are 3 tiers of the KTVA singing course:
The Course ~$229
The Course Pro ~$279
The Course Pro Plus ~$299
The cost depends on whether the format is a download, DVD/CD, or USB format.
We migrated the course to be hosted in the cloud and switched the pricing structure to instead be a one-time setup fee of $59 and a fee of $19-29/mo depending on which course was purchased.
After tracking orders over a two-year period, we saw an 11% month-over-month attrition rate which led to an average sale of $363. The average order value continues to go up as time goes on.
By switching the model, we were able to increase the average order value from $271 to $363 (34%).
Google Ads
Google Ads were used to give visibility to specific YouTube videos, collect email addresses, and drive sales.
Our Google Ads have generated over $600,000 in revenue from only $116,000 in ad spend (over 5x return on ad spend):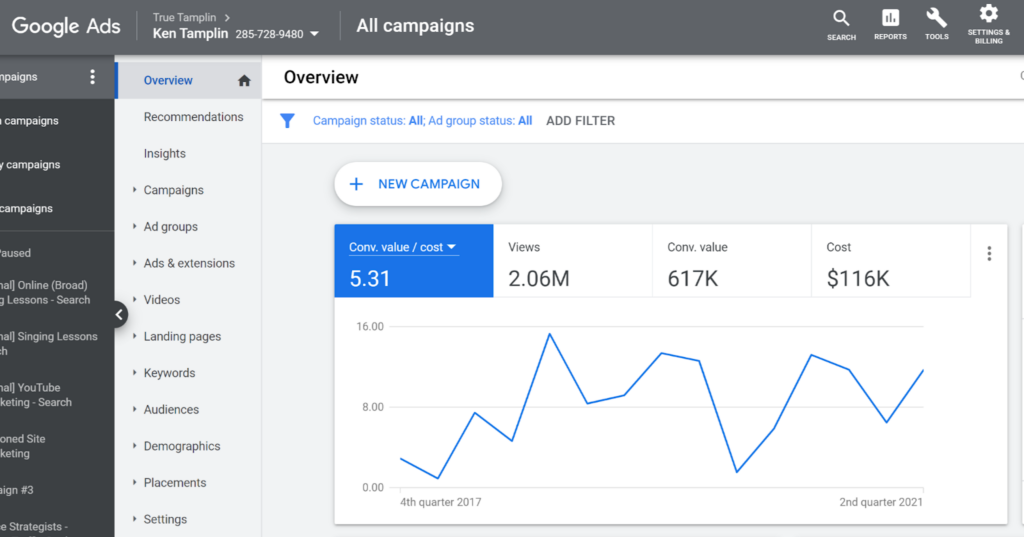 The success of this account was due to the site's existing traffic and YouTube following. With these in place, our targeting of either email capture or sales could go to a warm audience.
We were able to break out our audiences into groups and bid up on audiences which demonstrated higher or more recent interest (screenshot of audiences):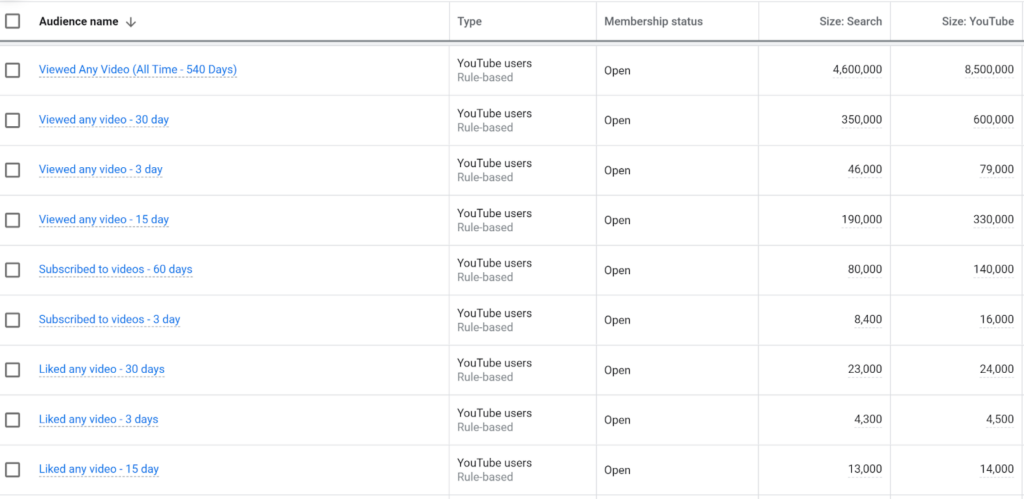 The YouTube channel generates lots of views organically, which in turn drives traffic to the website.
We were able to convert our existing eyeballs through remarketing to those who visited the website or interacted with our YouTube videos.
Note:
Google Ads is a specialty of UpDigital. To date, we've driven over $9,000,000 in revenue on less than $3,500,000 in ad spend across all accounts we manage (284% return on ad spend):

Summary
Ken Tamplin Vocal Academy is just one success story of many. UpDigital has helped clients in multiple verticals with varying business models, such as eCommerce or lead generation.
Have the UpDigital Team Audit Your Site